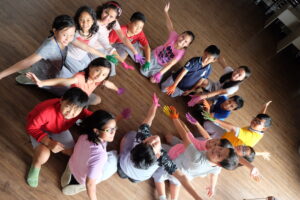 ABOUT
SOPHOS SCHOOL INDONESIA, founded on 17 April 2006, is a private formal education institution with four educational units, Preschool, Primary, Lower Secondary, and Upper Secondary level. In July 2006, we began providing education services starting with Preschool level, followed with Primary level in 2009 and Lower Secondary level in 2012. Based on the analysis of needs and requests from parents and the community, the Upper Secondary level was built in 2020. 
Currently, Sophos School Indonesia is a one-stop educational institution running a blended curriculum system that integrates national and international curriculums at Primary and Secondary levels, taught by professional educators who are committed to ensuring our graduates can seamlessly pursue higher education at domestic or foreign universities abroad.
As an SPK (Satuan Pendidikan Kerjasama) school, Sophos School Indonesia is a centre school for Cambridge Assessment International Education at the Primary and Lower Secondary levels, and the Oxford International AQA Examination at the Upper Secondary level. 
We are located in the CBD (Central Business District) in the heart of BSD City, opposite a large hospital and close to residential areas, providing easy access to both private and public transportation with the BSD Link Feeder Bus facility.

Integrating Academic Excellence with Noble Character
Thanks to the warm and individualized environment at Sophos School, my son has grown in a way that he never would have in another school. Sophos School uses the Cambridge school standard that not only focuses on improving my son's areas of need but also puts a huge emphasis on bolstering his individual strengths. Sophos School also provides rigorous academic challenges, as well as the tools and strategies needed to meet those challenges.
Bapak Daniel Virginia Lie and Ibu Emma Kurniawidjaja
Parent

Sophos School Indonesia was a very memorable place for me, not only because of how nice the teachers were but also the environment that the school itself built. Everyone was like one whole big family to me. Aside from the great environment, Sophos also has interesting events that help children to develop creativity and extend their knowledge to the highest potential. Sophos is a Cambridge based academy that requires its students to speak English in their daily lives at school. It really helped that I have basic knowledge of English. I managed to settle in Japan, thanks to the teachers and friends that had helped me throughout the entire three years in Sophos. So you don't need to worry if you have zero experience with English because they will help you from the start.
Jersi Emelia Simon
Jersi Emelia Simon Class of 2017 Clark Memorial International High School Nagoya, Japan

My time at Sophos school felt like being in a family, a tight-knit community that helped each other out, and improved together. They helped me gain experiences through classes and activities both academically, and in real life skills for the future. Creating a foundation for me as a person, and leaving me with fond memories with everlasting friendships.
Adhisakti Sahasrara Nugroho
Adhisakti Sahasrara Nugroho, Class of 2016 Austin Heights International School, Malaysia Management Student, Gajah Mada University

I am so thankful that he can develop his knowledge and skill well, and be able to build his good attitude. Moreover, during his study I was also actively involved in Parent-Teacher Committee as the President. This Committee aims at bridging the parents and school on the development of education by conducting regular meetings and active discussion.
Bapak Haris dan Ibu Restuti G
Parent

SOPHOS SCHOOL INDONESIA
Admission Office